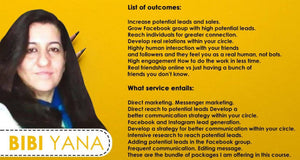 I am working with Top International coaches and Entrepreneurs for the last five years and have seen tremendous results of this whole process. 
List of outcomes:
Increase potential leads and sales.
Grow Facebook community/group with high potential leads. 
Reach individuals for greater connection.
Develop real relations within your circle.
Highly human interaction with your friends and followers and they feel you as a real human, not bots.
High engagement.
How to do the work in less time.
Real friendship online vs just having a bunch of friends you don't know.
What service entails:
Direct marketing.
Messenger marketing.
Direct reach to potential clients.
Develop a better communication strategy within your circle.
Facebook and Instagram lead generation.
Develop a strategy for better communication within your circle.
Intensive research to reach potential leads.
Adding potential clients in the Facebook group.
Frequent communication.
Please note!!
  This process takes time with everlasting results.